USER-GENERATED
SOCIAL MEDIA MARKETING
We help you collaborate and scale with top creators and influencers to create high performance social media marketing you can measure.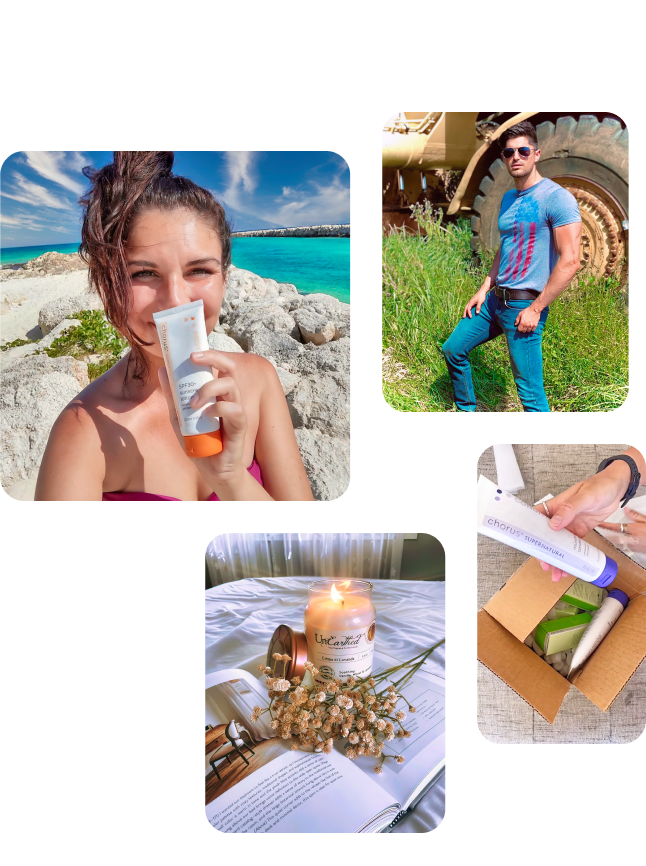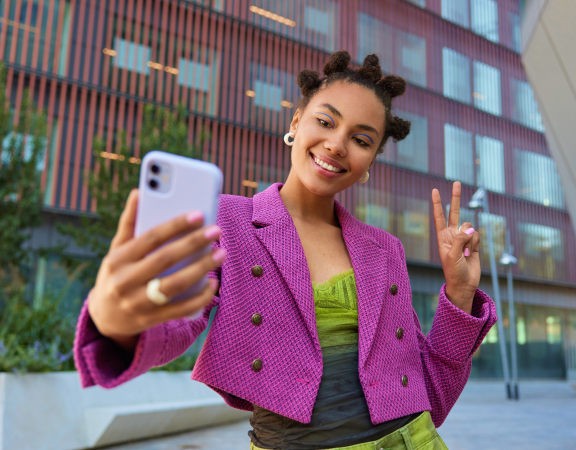 Influencer + UGC Social Media Marketing
Social Media in 2023 is all about collaborations and great content! Work with top content creators and influencers to scale your business and drive in results that actually bring sales and not just likes.
Combine your explosive social media with email and text marketing. Reach your community everywhere they hang out! Our high performing email and text marketing campaigns generate 20-40x ROI every month.

STRATEGY FOR CONTENT
AND GROWTH
Content is king but growth is queen. We create and execute actionable strategies every month that help your content move forward and your community and accounts grow.



USER GENERATED CONTENT
SOCIAL MEDIA
70% of shoppers trust other customers and influencers' opinions more than brand advertisements. We help you create a community of raving fans and content creators that help you be seen, grow, and sell.

DATA-DRIVEN + GRANULAR ANALYTICS
We pay attention to what works and ditch what doesn't. We track and measure 50+ data points on every social media campaign and only make data-driven decisions.

INSANELY GOOD EMAIL
AND TEXT MARKETING
We create marketing ecosystems that bring home the honey pot pot $$$. Our email and text marketing campaigns work seamlessly with your social marketing initiatives to bring in sales and decrease conversion costs.
BLENDING AI + HUMAN TOUCH
We love using machines to find and pre-vet the best content creators for your brand. Our marketing experts then manually choose and reach out to the ones that fir your goals best.

Control the narrative of what's being said about your brand and be seen how you want to appear. We help you leverage your social media, content creation, and influencer marketing projects for PR, rep management, and branding that makes a difference.
Co-founder and Creative Director
A sales and marketing expert whose passion lies in helping businesses navigate the ever-changing landscape of digital marketing.
Having already built three e-commerce stores in Canada she has positioned herself organically as an authority in this domain – a voice whom businesses can turn to for a competitive advantage.
People frequently describe Sandra as a dynamic, social and engaging person whom you can rely on for sound advice – whether commercial or otherwise.
Her attentive ear, keen eye for detail, and appreciation for nuance makes her a powerful partner to have as you endeavour to scale your business.
Srdjan specializes in helping brands uncover hidden profits and generate more sales online.
With over 12 years of experience in the industry, Srdjan has a proven track record of helping businesses increase their online presence and drive sales through targeted digital campaigns.
Under Srdjan's leadership, SnapAdvantage has become a trusted partner to a wide range of businesses, from small startups to large corporations.
The company's team of experts use a data-driven approach to create customized marketing plans that deliver measurable results.
In addition to his role at SnapAdvantage, Srdjan is also a respected thought leader in the digital marketing space.
He frequently attends high-level and masterminds with other industry leaders where he shares his insights and expertise.
Efren loves technology, computer graphics and multimedia communication.

As Design Manager, he defines, reviews, revises and implements design processes in order to achieve high quality, consistent and efficient image and video generation for your brand.
He also works closely with our clients to ensure a smooth and effective translation of the ideas and vision into the multimedia content.
He has vast experience creating multimedia content for social media, photo, and video editing, motion graphics, web design, icon design, UI design, among others.
He also has great command of the state-of-the-art graphic design software and tools that are used in a professional environment such as Adobe Premiere Pro, After Effects, Illustrator, Photoshop, Figma and more.
When it comes to creating graphics, he cares about the details, precision, aesthetics, and delivering the right message to your target audience.
He believes that listening to others, being eager to learn, and having initiative are key factors for getting excellent results when working with others.
Born and raised in Pakistan with professional experience working with international companies based in North America.
Abdul has worked for agencies, developers, and startups worldwide. Working as a designer since 2016, Abdul brings with him a diversified set of skills in product designing, branding, and social media design.
For over a year, Abdul has had the opportunity to work with SnapAdvantage. During this time, he has worked on a wide variety of projects, from small independent companies to large corporations, allowing him to explore graphic niches like video editing, motion graphics, image composite, etc.
He is passionate about creating clean & minimal designs with the highest quality possible.
With a keen eye for detail, Abdul loves starting with an empty page and converting the client's brief into the engaging creative solution needed.
South African born and bred, Jamie-Lee has grown up in an adventurous household that has imprinted in her a natural love for nature, outdoor activities, and travel.
This active and adventurous side is coupled with a love of reading, writing, and deep reflection.
As an English and Psychology major turned digital marketer, Jamie-Lee is forever intrigued by the dynamic nature of marketing and the psychological component brought in by the continuously-shifting landscape.
Those who have worked with Jamie-Lee often describe her as hard-working, practical, and efficient.
Her previous 5 years in the marketing environment have taught her valuable skills, including time management, leadership, communication, preparation, and organization, as well as the ability to adapt quickly to a variety of unexpected scenarios.
If you're looking for a friendly yet highly capable account manager to assist you with e-mail marketing, social media management, or any other form of communication – she's your girl!
Tamara is our Influencer Marketing expert and our Junior Account Manager.
Since working for SnapAdvantage, Tamara has successfully assisted on various accounts and projects.
She takes time to get to know each of our clients and makes it her mission to fulfill clients' wishes.
Tamara cares for every project and works as if it were her own company.
She has the initiative to incorporate trendy content and is always on the lookout for what can be done next for our clients.
You want to have Tamara on your team because she is loyal and hardworking, and you can always count on her to get the job done.
Majoring in Digital Marketing and Brand Management, Justin has found himself continuously inspired to connect concepts to brands in order to drive impact.
With an education from Africa's most revered Marketing school, AAA School of Marketing, he set off to drive change in agencies and businesses from all corners of the globe.
Through his work and travel, he has learned that freedom breeds happiness, and happiness breeds creativity.
By finding an agency that holds true value in forward-thinking marketing expertise and where self-expression is celebrated, Justin has felt right at home.
It is within this decentralized marketing space that he has been able to further nurture and apply his passion for creative digital execution.
Described as sociable and animated, tenacious yet empathetic, you can count on him to give your brand the undivided attention to detail it deserves.
Whether in digital marketing, graphic design or creative coding, you'll find him determined not to be ordinary.
Local businesses are the backbone of any community, and there are some incredible entrepreneurs behind these businesses who need to get their stories told.
Travis loves ingraining himself into the story of each business, what makes them tick, why their customers love them, and how best to build lasting customer relationships
He enjoyed pushing the boundaries of what a brand can be by combining creativity and storytelling to create strategic and thought-provoking content that not only drives sales, but leaves a lasting impression.
Hard work and a can-do attitude are always top-of-mind for him and he always gets the job done with a smile on his face.
Zvjezdana is a highly analytical and motivated individual with over 15 years of customer service experience.
Born in Bosnia and Herzegovina, she moved to Canada and graduated from the University of Guelph with a Bachelor of Science degree.
During her time in Canada, she gained various skills through her work in a grocery store, a restaurant, as a tutor, and in administration.
In addition to her professional experience, Zvjezdana is a dedicated mother of three beautiful boys and is very family oriented.
She is also passionate about animals, music, and spending time with her family and friends.
Her love for working from the comfort of her own home and in a fast-paced environment led her to a career in real estate in Serbia.
She treats her co-workers and clients as part of her work family and always puts forth her best efforts to excel in her tasks, particularly in organizing, scheduling, and problem-solving.
She believes, "It is the little moments that make life big".
Born and raised in Ecuador, Sara strongly focuses on customer service and expertise in the tourism, hospitality, and travel industries.
Additionally, she possesses excellent writing and communication skills.
Her love for art, specifically music and culinary arts, is a hobby and a reflection of her appreciation for her culture and origins.
 She has a diverse experience in customer service, starting as a telephone advisor in a contact center, and progressing as a restaurant assistant, consistently providing exceptional service and pleasant experiences in food and beverage.
Through her experiences, she has developed strong organizational, communication, and leadership skills and is always willing to assist and solve problems.
Kathleen is a Customer Service and Sales Manager at Snapadvatage with a total of a total of 20 years in various branches of the Customer Service/Sales industy helping customers with various issues.
Specializing in  Customer Service/Sales industry, Kathleen uses that experience to make sure that she helps her customers from start to finish and all customers she gets have all their issues resolved.
Kathleen is an animal lover and has dogs and rabbits.
An administrative and project support professional passionate about keeping things on track.
Having worked in various executive and project- based roles for the past five years, she is a creative problem solver with a knack for process improvement and project management.
Born and raised in Vancouver, Canada, she now lives on the other side of the world in Sarajevo, Bosnia.
She is enthusiastic about helping to streamline processes and provide personalized support.